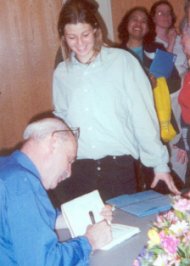 Mel Glenn has made a great many appearances around the country, at schools, libraries, bookstores, and conferences. He is available to read from his books, explain his writing process, answer questions, and lead writing exercises to illustrate how easy it is to come up with ideas.

Mel is a relaxed and playful speaker, who draws on his many years of teaching experience to keep children (and adults!) of all ages engaged, and entertained.

If you would like to schedule an author visit, you can contact Mel himself, for more information on available dates and fees.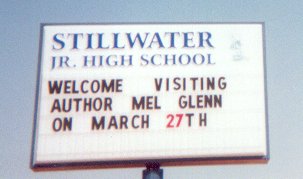 "It was a wonderful day when you came to visit!"
- Samantha, age 15, Queens, New York


"I enjoyed your poems and could relate."
- Lyndsey, age 15, Queens, New York


"Your presentation of the poems was awesome!"
- Ryan, age 16, Seattle, Washington


"I don't read books, but after your visit, I'll read yours."
- Stephanie, age 15, Stillwater, Oklahoma


"Mel Glenn did a fine job of showing the importance of writing and provided a very real version of a successful author. He encouraged students to participate. He tried to include all types of students. He encouraged students to follow their passion. During his presentation, Mr. Glenn encouraged the students to read, believe in themselves, and be passionate about all artistic endeavors. As a counselor, I liked the emphasis Mr. Glenn put on setting personal goals and discovering your talents."
- Teacher, Stillwater, Oklahoma


"Mr. Glenn helped kids see the power of words. His teacher sense helped him to relate well to the kids. They felt comfortable responding to his questions and comments."
- Teacher, Delaware