His Life:

Mel was born in Zurich, Switzerland, on May 10th, 1943. His family came to the United States when he was three years old, and settled in Brooklyn, New York. He grew up playing stickball in the street (three manhole covers = a home run) and stoopball (a forgotten art, really) outside his house.

Mel graduated NYU in 1964 with an English degree, which in no way prepared him for life in Africa. So he joined the Peace Corps and went to Africa.

Mel lived in Sierra Leone for two years, teaching English and history, before coming back to the States. He went back to school, and got his Masters degree from Yeshiva University, and did some post-graduate work at NYU.

And, having not yet had his fill of school, he became a teacher. First, junior high for a few years, at JHS 240 in Brooklyn. A few years later, he settled in for the long haul: 31 years at the same school from which he graduated, Abraham Lincoln High School, near Coney Island. Mel loved teaching English, helping his students discover why Macbeth is cool, and how come Captain Ahab didn't just quit his silly quest, and open a seafood joint in Boston.

Mel married his wife, Elyse, in 1970, about when he started at Lincoln. They had two sons, now both in their 20's. Jonathan, followed the trail of verbs and adjectives Dad sprinkled behind him as he walked, and made his way to a career writing television news. Andrew, on the other hand, splashed his way out of the family's literary gene pool, to become a software engineer.

Mel retired from teaching in 2001. He now spends his time writing, and making appearances at schools, libraries, and community groups around the country.

In his free moments, Mel likes sternly admonishing the television set whenever a public figure dares to use incorrect grammar, and cheerily refusing to clean up the papers on his desk no matter how often his wife throws up her hands in despair.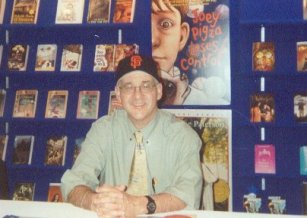 His Writing:

"I could not be a writer if I were not a teacher"
-Mel Glenn


Why he does it:
Mel says he tends to write about teenagers largely because he spent so many decades surrounded by 2,500 of them, in the high school hallways. He was inspired by their lives, and their stories. And he says he knows he's succeeded when a kid comes up to him after reading one of his books, and says "I've felt just like that."


How he started:
Mel always felt drawn to the written word. He started writing for NYU's student paper when he was 18. He wrote news, sports, and feature articles. But it took many years, and a dare from his wife, Elyse, until he tried his hand at a book.

It was 1979, and Mel was teaching at Lincoln High School in Brooklyn. A colleague showed him a manuscript he was trying to get published, and Mel thought it was pretty bad. He told Elyse about it when he got home - her response: "Can you do better?"

Turned out, he could.

On January 1st, 1980, Mel resolved to try his hand at writing a book of poems. He wrote at least one or two poems a day, and they eventually turned into Class Dismissed! High School Poems. Class Dismissed was a hit, winning the Society of Children's Book Writers Golden Kite Award, and was named ALA Best of the Best Books 1970-1982.

Mel figured if he could do that on his first shot, he should probably keep going.
And so he did.


His writing process:
For years, Mel wrote his books on yellow legal pads, scratching them out with a pencil in a longhand few could decipher, and then painstakingly transferring them to typeface via an aging electric typewriter. Some argue Mel just felt the words spilled out more easily this way. But his family knows the truth: Mel doesn't get along well with technology. He doesn't understand how come the VCR doesn't automatically tape the channel he wants, or why the microwave doesn't have a setting marked "not too hot, not too cold."

But despite Mel's carefully cultivated disdain for all things circuited, he eventually gave in and bought a computer. He has written his last few books on it, and save the occasional frantic calls to his sons along the lines of "Help! The window ate my chapter!" everything has gone quite smoothly.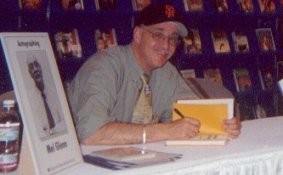 Further Information:

For an extensive interview and lots of additional information about Mel Glenn (as well as a host of other authors), go to http://www.authors4teens.com